North Parking Lot Closed
June 2013 - July 2014
Tue Aug 13, 2013
All Day Event
The Campus Perimeter Road will be CLOSED north of Science Building 36 and north of Building 34 for the rebuilding of parking lots, pedestrian sidewalks and landscaping. 
There will be no through access on the Perimeter Road for the coming year.
All Galileo Parking Lots (Lot 6) will be closed. Approximately 20 spaces on the north end of Marie Curie Lot 5 will also be closed.
The entire area north of Science Building 36 will be fenced off for construction. There will be  emergency vehicle access only to the north campus; there will be no vehicle nor pedestrian access.
Please allow adequate time to park, given anticipated traffic impacts as our community adjusts to new routes and parking locations. Student parking is available in the Upper and Lower Hillsdale Lots (Lot 1), in addition to the student lots on the main campus.
A map depicting these changes is included below for your reference.
Thank you in advance for your patience as we work to provide improved parking and ADAÂ accessible paths of travel at north campus.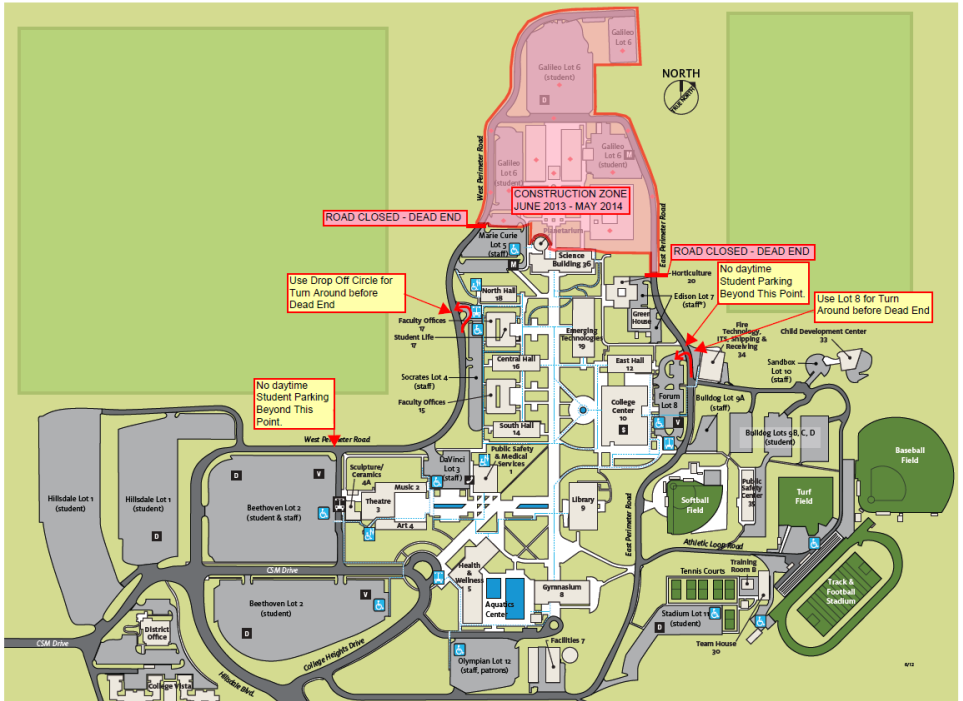 Categories: