Summer 2014 session begins
Mon Jun 16, 2014
All Day Event
Summer 2014 Tips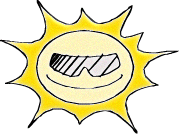 CAMPUS CONSTRUCTION
Construction is still ongoing at the north end of the campus.
You can no longer loop the campus via the Perimeter road.
There is no parking available at the north end of campus.
Check the CSM Event Calendar Construction listings frequently
for construction updates.

USE WAITLISTS

You will only have 24 hours from the time you have been notified via email (your 
my.smccd.edu
account) to register. Please review your email daily if you are on a waitlist. If you do not register for the class within 24 hours, you will be dropped off the waitlist. You may also receive waitlist notifications via text message if you sign up to receive other non-emergency information via text message. 

SIGN UP FOR TEXT MESSAGE NOTIFICATION

To receive important college communications via text message on your device, log into 
WebSMART
. Click on 
"Student Services", then on "Update Your Student Information". Scroll down to "Contact Information" and enter your information.

ASK THE BULLDOG
Ask the Bulldog is a smart knowledge database available online to answer your questions. Check out
Ask the Bulldog
when you have a question or need information and get the answers you need quickly and online.

ARRIVE EARLY/EXPECT TRAFFIC DELAYS (30 minutes or more)

Arrive at least 30-45 minutes prior to the start of your first class. There is always congestion on West Hillsdale Boulevard, on all campus roads and in parking lots during the first few days of the semester. Parking lots fill quickly
and it may take you longer to park. 
Do not park in parking lots belonging to private businesses located near the college. If you do, your car may be towed.

PARKING
Visit 
Maps, Directions & Parking
for the most current access and parking information.

Parking permits are available for purchase in two ways.
Online (via WebSMART) year round. Delivered by mail in three to five days.
Enter your student ID and password. Click on "Student Services", then on "Order Parking Permit".


On campus at the Cashier's Office permit purchase station (College Center Building 10, Room 360).
In-person pickup only. 

Once ordered, the permits may be immediately obtained at the Cashier's Office counter. No shipping and handling fees.
Parking Grace Period
Students may park in all student lots without a parking permit for the first week of the session.
Citations will be issued beginning on Monday, June 23, 2014 for students parking without a valid permit.
Citations will be issued at all times for students parking in staff or visitor lots, red zones, and handicapped spaces.

DROP-OFF/PICK-UP AREAS

The main drop-off area is on College Heights Drive in front of Health & Wellness Building 5. An alternate
drop-off/pick-up location is Socrates Lot 4. For a campus map visit 
Maps, Directions & Parking
.

ACCESS FOR STUDENTS WITH MOBILITY ISSUES

I
f you need mobility assistance, please contact 
Disabled Students Programs and Services (DSPS)
staff for assistance at (650) 574-6438 or 
skaffl@smccd.edu
.

LEARNING CENTER

If you need tutoring assistance come to the Learning Center located in College Center Building 10, Room 220.
Visit the 
Learning Center
website to learn about all the services we offer.

SMOKING POLICY

Smoking is allowed in parking lots only. There is no smoking allowed in Socrates Lot 4. This policy also applies
to e-cigarettes.

IF YOU MISSED THE FIRST CLASS, CONTACT YOUR INSTRUCTOR
If you were unable to get to your first class meeting 
please contact your instructor immediately to avoid the possibility of being dropped for non-attendance.

CLOSED CLASSES
If a class you want is filled to capacity, you are encouraged to attend the first class meeting. If the instructor has
space in the class, s/he will provide you with an authorization code to add the class.

SUBMIT AUTHORIZATION CODES IMMEDIATELY
If you receive an authorization code from an instructor to add a class, be sure to register via 
WebSMART
immediately. You will need both the authorization code and the CRN# for the class in order to enroll. Some instructors may honor your authorization code for a short period of time only. If you have not officially registered for the class, you may be denied entry.

ASSISTANCE WITH EDUCATION PLANNING
Looking for assistance with your Education Planning? Consider attending a Counseling focus group and scheduling
a meeting with your counselor. You may also utilize 
DegreeWorks
, an online evaluation tool, to view your educational progress. Visit 
Counseling Services
for more information.

SIGN IN AND USE YOUR @MY.SMCCD EMAIL
All college electronic communications will come to your 
my.smccd.edu
email address. Log into your 
WebSMART
student account to find your email address and password.

CENTER FOR STUDENT LIFE & LEADERSHIP DEVELOPMENT
Visit the 
Center for Student Life & Leadership Development
in Building 17, Room 112, for general information,
Sam Trans tokens, and Student ID Cards.

FOOD SERVICE/ATM
The following food services are available in College Center Building 10.
Terrace Grill
Paws for Coffee
The Market
Additionally Le Bulldog, located in the Health & Wellness Building 5, provides food service.
For locations and operating hours please visit the 
Food Service
website. The ATM is located near Paws for Coffee in College Center Building 10, second floor.

Your success is important to us!
Categories: