Wounded Warrior Amputee Football Team vs. SF NFL Alumni
A Game of Honor
Sat Feb 06, 2016
12:00 pm - 3:00 pm
| | |
| --- | --- |
| | Free Admission for Students & Children |
Big games come and go, but only one will showcase the bravery and perseverance of those who have sacrificed so much for our country. The Wounded Warrior Amputee Football Team (WWAFT) plays at College of San Mateo on Super Bowl Saturday, February 6th, matching up veterans that have lost limbs in Afghanistan or Iraq with more than 40 NFL Alumni.  Nowhere else in the Bay Area during Super Bowl week will you experience such a moving, heartfelt game than at CSM's College Heights Stadium. 

It's easy to get excited about the NFL greats and celebrities that will take to the field. Pittsburgh Steelers four-time Super Bowl champion and Vietnam Veteran, Rocky Bleier, co-hosts the game with CSM and Niner's alum, Bill Ring. In fact, the San Francisco Forty-Niners will be well represented throughout the game. Home team champions include Dan Bunz, Derrick Deese, Chris Draft, William Floyd, Bill Romanowski, Dana Stubblefield, and Spencer Tillman, while former Los Angeles Raider, Bob Golic, brings a bit of a rivalry to the field.
Snoop Dogg and alumni from the Broncos, Browns, Colts, Eagles, Falcons, Rams, Packers, Patriots, and more will play alongside our local heroes. But, the moment of inspiration comes when the group of veterans, all amputees, face-off at the 50-yard line. These modern-day warriors will defend their team as bravely as they defended our country in combat.
Random Bag Checks
To provide a safer environment for the public and significantly expedite entry into College Heights Stadium, CSM and the Wounded Warrior Amputee Football Team have implemented a policy for this event that limits the size and type of bags that may be brought into the stadium. Read the Random Bag Checks information before you arrive.
Video
Andreas Wolf: Wounded Warrior Amputee Game
Peninsula TV host Dani Gasparini interviews Andreas Wolf, CSM's Dean of Athletics, about the Wounded Warrior Amputee Football Team vs. SF NFL Alumni game on February 6, 2016.
WWAFT vs. SF NFL Alumni
The undefeated Wounded Warrior Amputee Football Team takes on San Francisco's NFL Alumni at the College of San Mateo on February 6 from 12-3 pm.
Sponsors
The Wounded Warrior Amputee Football Team was established in 2012 and played its first flag football game versus the NFL Alumni prior to Super Bowl XLVI in Indianapolis.
The team is composed of service men and women who served in Afghanistan, Iraq and Vietnam who lost a limb defending this nation's freedom and security. The team's mission and purpose is to visibly demonstrate that the loss of a limb does not mean the end of an athletic career and that "Perseverance isn't a goal; it's a way of life."
All proceeds raised during WWAFT fundraisers benefit local and national Disabled Veterans Initiatives. Anyone interested in supporting Wounded Warrior Amputees is asked to please visit wwaft.org.
The charity football game is sponsored by Humana and Military Benefits Association. Launched in 2011, Humana's Veterans Initiative looks to serve veterans in three ways: careers with Humana, support for entrepreneurship, and well-being products and services. To date, Humana has hired more than 2,600 veterans and/or military spouses. Humana has a strong presence in the Bay Area, including its subsidiary Transcend Insights, a population health management company.
The Wounded Warrior Amputee Football Team is a non-profit, IRS approved 501c3 charity.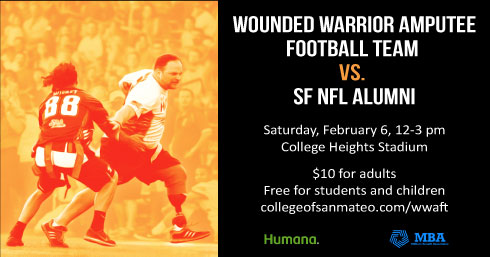 Cost:
$10 adults/Free for children and non-profits
Categories: