Jazz on the Hill
CSM Celebrates 50 years on the College Heights Campus
Sat Jun 01, 2013
10:00 am - 6:00 pm
KCSM's
Jazz on the Hill
returns to CSM! Join us for live jazz with
special guests
, chat with your favorite announcers and enjoy food and refreshments, all while being surrounded by the spectacular 360-degree view of the coastal hills of the Bay.
Participating musicians include:
10 am - Northgate High School Jazz Band
11 am - KCSM Family band
12 pm - Adam Theis & Jazz Mafia
1 pm - Terrence Brewer, Citizen Rhythm
2 pm - Hot Club of San Francisco
3 pm - Taylor Eigsti, Julian Lage and Dayna Stephens
4 pm - Charlie Musselwhite
5 pm - Pacifica Mambo Orchestra
Performance stages for Jazz on the Hill will be located in front of Library Building 9
(Lower Mezzanine) and in College Center Building 10 (Upper Mezzanine).
CSM will host an open house from 11 am to 2 pm with over 30 department/programs available to meet with the public and answer questions about the programs and services the college has to offer, including:
Open house exhibits will be presented in the Fine Arts Courtyard, between the Fine Arts Courtyard and the lower quad ponds, between Health & Wellness Building 5 and Public Safety/Medical Services Building 1 and in College Center Building 10.
For more information about the celebration, view the Press Release or contact Bev Madden at maddenb@smccd.edu or (650) 574-6538.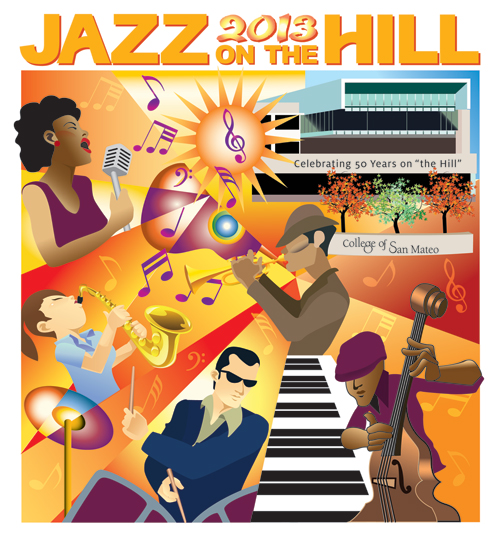 Categories: