1st Annual Latino Festivities
Sat Dec 08, 2012
5:00 pm - 8:00 pm
We are proud to invite you all to our first annual event of Latino Festivities. We will host an evening of entertainment featuring guest speakers from Latino organizations, Central and South American cuisine, music and dance.
Feel free to bring your families, friends, or even neighbors as we celebrate throughout the evening. We hope to see you all there!
Guest speakers from
Educators for Fair Consideration (

E4FC)

Peninsula Conflict Resolution Center
Including a special guest from San Jose State, Felipe Ponce. A Mexican American Studies graduate student, Felipe Ponce's op-ed titled, "A chance for redemption" was published in the San Francisco Bay View: National Black Newspaper.
Ponce's op-ed discusses Senate Bill 9, a bill introduced to the California Legislature that would change whether youth should be sentenced to life without parole (LWOP).
With his thesis on "Xiximeking History: Disrupting The Erasure."
All proceeds will go to an association that will help the Latino Community that is in need of funds.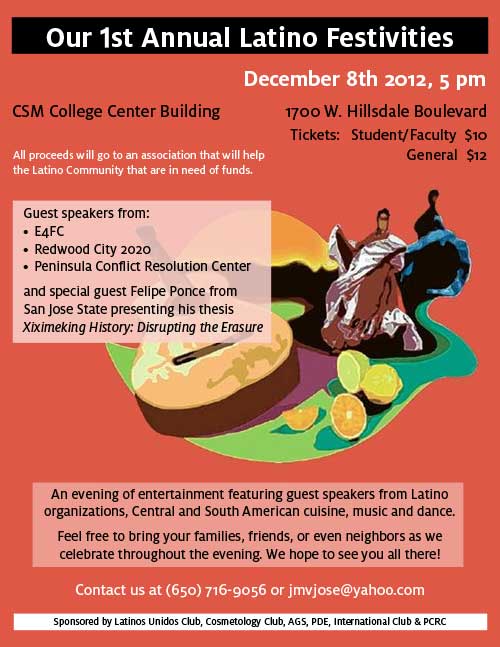 Cost:
$10/student $12/public
Categories:
CSM College Center Building 10, Bayview Dining Room
1700 W. Hillsdale Boulevard
San Mateo
,
CA
94402
US
Browse Events at this Location
Event Contact Info
Jose Vidal
(650) 716-9056