KCSM-FM Jazz 91 Winter Pledge Drive
Fri Feb 01, 2013
8:00 am - 6:00 pm
CSM's own radio station, KCSM-FM Jazz 91 is running our Winter Pledge Drive January 22 - February 8, 2013.
To make a pledge of support, call 1-800-527-6911 or or click kcsm.org/pledge. Browse the wonderful collection of pledge gifts including music, apparel and logo items!
Volunteers from CSM and the community answer phones, enter data, and help us have a successful fund drive. We also welcome gifts of food from local stores and restaurants to feed our volunteers.
To volunteer for this Drive, or for our Spring Drive (dates in May TBA), email us at FMVolunteers@kcsm.net.
Thanks for your support!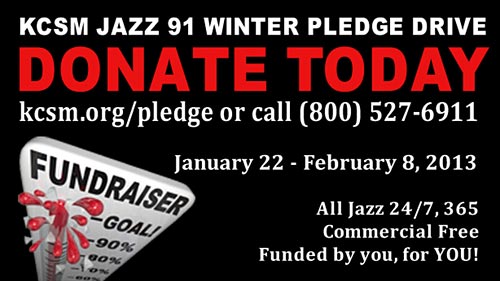 Categories: