'Vincent Who?' Film Screening & Discussion with Writer/Producer Curtis Chin
A film about the murder that awakened a people and ignited the Asian American civil rights movement
Fri Mar 08, 2013
12:10 pm - 2:00 pm
Vincent Who?

A film about the murder that awakened a people and ignited the Asian American civil rights movement
Curtis Chin, writer and producer of "Vincent Who?," will screen his film, discuss the relevance of the Vincent Chin case today, and participate in a Q&A discussion.
Lunch Provided and Free Admission.
Sponsored by the Diversity in Action Group (DIAG), Campus Support Vending Funds, and Academic Senate Basic Skills Initiative (BSI)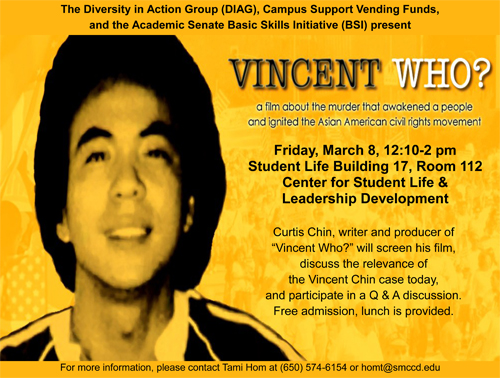 Categories: