Art and Science Presentation
Shouldn't art be beautiful?
Fri Apr 19, 2013
7:30 pm - 9:30 pm
Shouldn't art be beautiful?
The answer depends on what is meant by "art", and what is meant by "beautiful". For Plato, art and beauty did not mix; beauty was an absolute and art was an imitation of imitation. For the artists of the Italian Renaissance, who connected beauty to morality and considered it as the testament to God's power and perfection, it was the commitment to beauty that defined their art. And in modern time, when relativism of beauty reigns, a strong paradigm shift is the irrelevancy of beauty to art.
In this presentation, Professor Mohsen Janatpour will expound his take on the relationship between beauty and art and will comment on some of his artwork, which will be exhibited.
To complete the evening, telescopes will be set up in front of the theatre courtesy of the San Mateo County Astronomical Society and the CSM Astronomy Department. With help from the experts, you will be treated to the spectacular views of Saturn with its majestic ring system and other celestial beauties.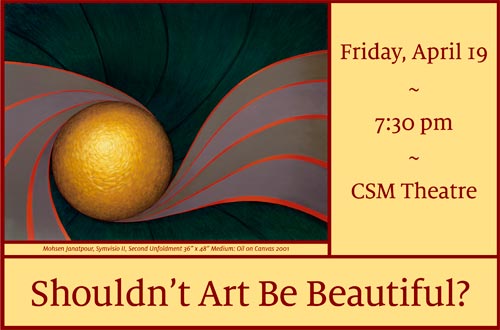 Cost:
Free
Categories: