Yarn-Bombing a Bookcart
Tue Apr 16, 2013
2:00 pm - 4:00 pm
Help us cover a bookcart in yarn! No knitting or crochet experience is required.
Hosted by biology professor Theresa Martin and librarian Teresa Morris.
This event is part of the CSM Library's new Makerspace, a place for knowledge and skill sharing, collaboration, and most importantly making cool projects.
Join us for a new workshop every day during National Library Week, April 15-19, for hands-on DIY do-it-yourself workshops, tinkering and projects in electronics, crafts, media, and more!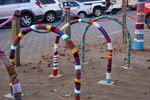 Categories: