About ASCSM
The Associated Students of College of San Mateo (ASCSM) is the official representative student government organization at College of San Mateo.
The Associated Students is charged with the responsibility of assessing and meeting student needs and of providing student input into the decision making process of the college. The Student Senate and its committees, the Programming Board and the Advocacy Board, carry out the activities of the organization.
The
ASCSM Mission Statement
guides the A.S.'s activities.
Major elected and appointed officers and representatives of the association are: President; Vice President, who also serves as chair of the Student Senate; Finance Director; and Student Senators.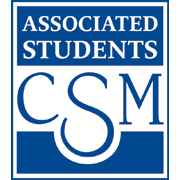 In addition, students are selected by the Student Senate to serve on College and District participatory governance committees, including College Council, and various Institutional Planning Committees.
Further information about the Associated Students can be obtained by contacting current student officers through the Center for Student Life or the Student Life and Leadership Manager. Meeting times for Associated Student committees are available by clicking on the committee name at left or through the Center for Student Life in Building 17, Room 112.